If you're an avid follower of #dogsofinstagram, then you've probably come across the two-legged boxer named Duncan Lou Who. To put it simply, he is an absolute inspiration for all differently-abled dogs everywhere and lives every day like we all should—to its fullest!
Duncan Lou Who lives in Medford, Oregon, with his dad who adopted him. He was born in Colorado with his rear legs fused in an "X" shape and completely unusable. In fact, they were twisting Duncan's spine and putting unnecessary weight on the rest of his body as he walked.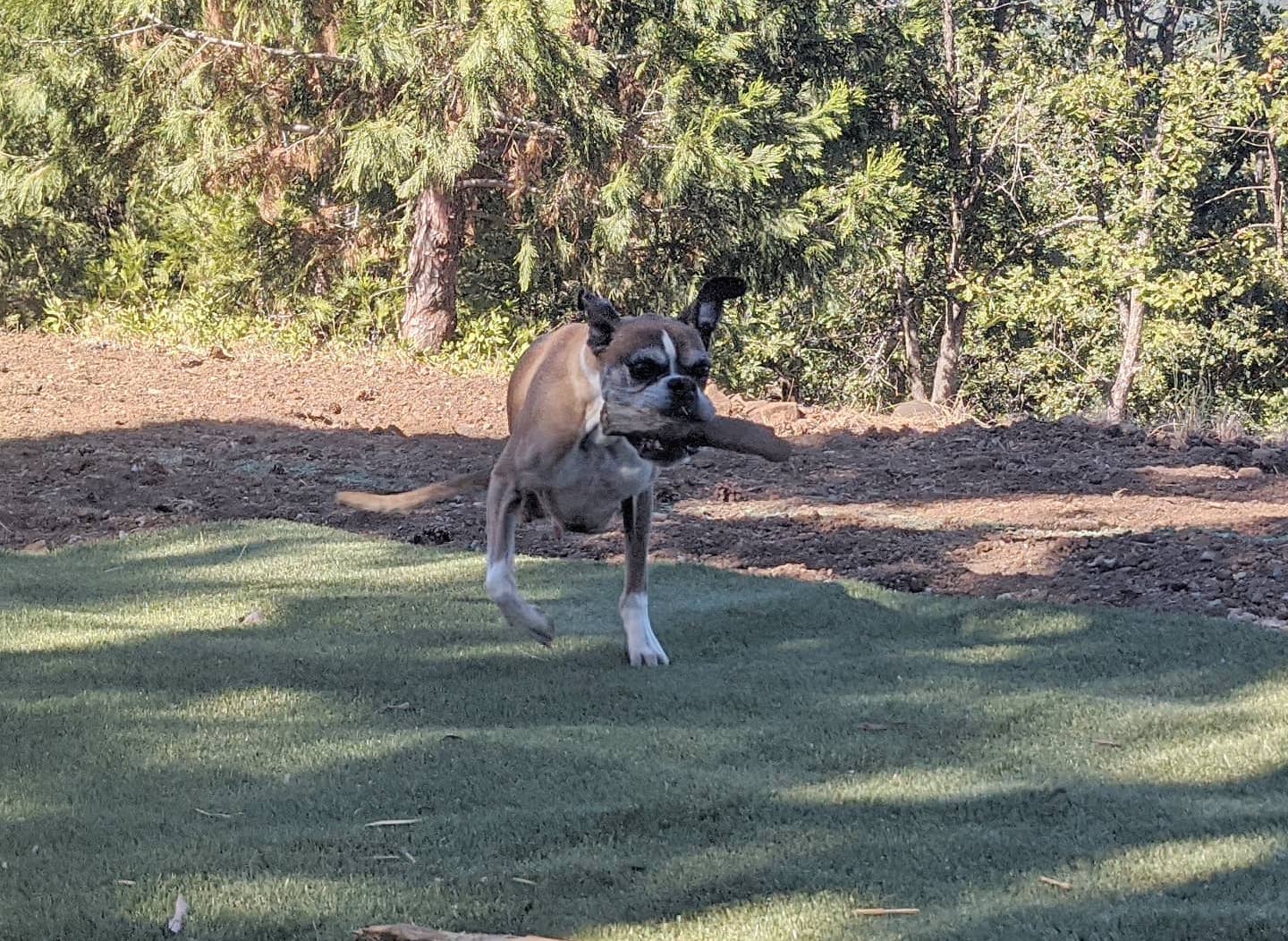 Duncan's back legs would have eventually caused him a lot of pain and complications, so they were amputated by a wonderful veterinarian in Vancouver, Washington. He already knew how to walk on his front legs before surgery, but his dad says that he was up and walking around on them just one hour after his amputation surgery. Now that's a strong and determined boy right there! We could all take a note from Duncan to find our inner strength and live life out loud no matter what may be trying to weigh us down.
Duncan loves K9Grass synthetic turf and needs more!
Duncan's dad had a small piece of artificial turf at the house and let him walk on it to see if he would like it. Turns out he did enjoy it, and we actually noticed and reached out to offer him a bigger piece of turf—K9Grass synthetic turf! He's been absolutely loving his 1,200 square feet of superior surfacing, and it's actually in the works to get him a complete K9Grass yard.
Why did "The Dad" choose K9Grass?
It stays cooler than most.
When "The Dad" posted about Duncan's new K9Grass synthetic turf on Facebook, one of his followers asked about the temperature of the turf. She said, "Hopefully this is special artificial grass as most out there get very hot in summer if direct sunlight is on it. Take care but have loads of fun."
With those two precious paws doing the work of four, it's important to keep them healthy. Duncan's dad responded by saying that "it's significantly cooler than the other grass we tested. One of the main reasons we chose it. Plus the area is shaded most of the day."
While K9Grass synthetic turf does not stay as cool as natural grass, which has water running through it, it does not absorb and radiate heat like pavement, rock, or brick. If you are concerned about your dogs' paws getting too hot, we recommend making sure there's a shaded area for them to retreat to, like Duncan's dad has done.
It's easy on Duncan's joints.
Walking the way Duncan does puts extra strain on his shoulder joints, and "The Dad" says that this will lead to premature breakdown of his joints. He makes it a point to let his followers know that Duncan is not in pain on a daily basis, and that he will make sure he never lets it get to a point where Duncan is living in pain.
"The Dad" does everything he can to keep Duncan safe and foster a comfortable environment for him that minimizes strain on his joints as much as possible. Surfaces like dirt, gravel, or concrete are very hard and don't offer much give. The same goes for a natural grass lawn that's dry and rocky. K9Grass synthetic turf offers a soft surface that mimics a healthy, lush, and full natural grass lawn—without all the annoyances that come with putting grass and dogs together.
It's a familiar surface.
Duncan loves to play outside and find sticks to carry around. You could say he likes to be out in nature! So it's perfect that he gets this surface that is, in fact, synthetic, but looks and feels like natural grass that he's used to. It's not a jarring surface for Duncan, it just feels natural. And he can still find sticks around the other parts of the yard to play with!
If you want to learn more about Duncan or follow his story, be sure to connect with him on Facebook and Instagram!