French bulldog Bethanee Hamilton is a daily dose of cuteness to 225,000 Instagram followers and nearly 100,000 TikTok fans—and climbing! Her cute face and sassy personality continuously attract followers to her montage of photos and videos at Pardon Thy French.
But beyond her exterior charm, Beth's story and courageous heart draws people back for more. At ForeverLawn®, we're truly inspired by this sweet girl's courageous spirit, her support of other dogs, and of course, her sassy personality.
The Making of Pardon Thy French's Beth Hamilton
Rescue Dog.
Beth, the now-famous Instagram star, was first discovered without a home and abandoned by the side of the road in 2016. Pacific Northwest Bulldog Rescue in Oregon lovingly rescued her and began the process of managing her health and well-being, with the ultimate goal of finding Beth a forever home.
Cancer Survivor.
Not long after being rescued, Beth ended up with severe health complications. She was undergoing a routine spaying surgery when she suddenly flatlined. The courageous pup was miraculously resuscitated but her journey was far from over. Beth's back left paw began to swell and eventually started bleeding. Sadly, her care team discovered a mast cell tumor that was cancerous.
In an effort to save Beth's life and provide the care she needed, Pacific Northwest Bulldog Rescue made her story public. Their Facebook funding campaign spread rapidly and support for Beth poured in. Ultimately, Beth's path to survivorship required an operation to remove her hindleg.
Adoptee.
The love that Beth garnered through her cancer journey on social media prompted hundreds of adoption requests. But one heart, in particular, could not be separated from the pup. Lindsay, Beth's now owner, melted over the bulldog, and she immediately submitted an adoption application.
Just one month after Beth's surgery, she was adopted by Lindsay, who's freelance work provided the flexibility needed to oversee Beth's healing process. The two soon became inseparable, constant companions who were meant to be together.
Rising Star.
As Beth learned how to navigate daily life with her new tripod stance, Lindsay noticed that the resilient pup had quite the personality. Lindsay started documenting Beth's antics on Instagram, and the rest became history.
Beth quickly gained a mass following on social media with her sassy spirit, street style and survivor story. Today, she's famous on every platform—Instagram, YouTube, TikTok, Twitter, Pinterest and Facebook. She even has her own merchandise line, Netflix feature on Pet Stars, and the prestigious title of "Ultimate Supreme Pet Champion" in her hometown of Portland, Oregon.
Beth Gives Back to Pups Like Her
While Beth is living her best life with pet parent Lindsay, neither of them have forgotten where the journey began. Beth's worldwide following is used to bring greater focus and attention to animal rescue efforts, raise funds for senior and disabled pet adoption, and bring hope to other dogs. Lindsay and Beth travel the US doing meet and greet fundraisers to help save the lives of other dogs just like Beth.
Gifting Beth a K9Grass Mat for Her Journey
It was important for us to give back to Beth as a way to honor her story and the incredible impact she has on the community around her. That's why we reached out to her owner, Lindsay, to make sure that Beth had her very own K9Grass® Mat.
We knew that the K9Grass Mat was the perfect accessory for an on-the-go pup like Beth. Whether she's tagging along for errands or prepping for her next big fundraiser, Beth has an active lifestyle that definitely warrants some pampering.
Beth's plush new K9Grass Mat gives her a soft spot to rest, rejuvenate, and flash some of those well-loved smiles. The cushioning and natural-grass-feel of her K9Grass Mat offers Beth the comfort her body deserves after a busy day of moving around—especially with how hard her legs work for her! Plus, she can get in some R&R wherever her mom goes with the easy portability of the K9Grass Mat!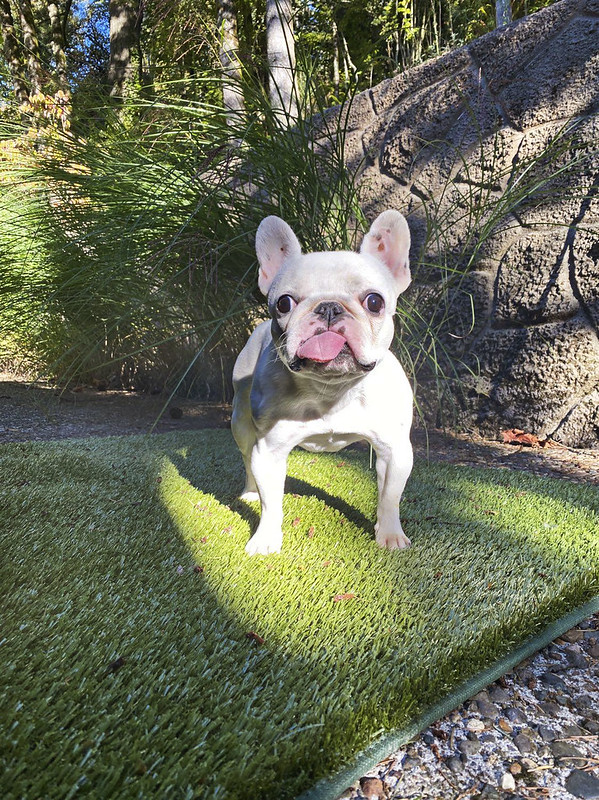 Lifting Spirits One Day at a Time
While Beth continues to inspire folks worldwide, we're grateful we could cheer her on in her journey. Giving Beth the comfort of a K9Grass Mat was just a small way for us to prop her up. And we know that she'll continue to do great things at home and on the road. Enjoy that K9Grass Mat, Beth!
If you want to catch more of Beth's bulldog heroics, make sure to follow her on Instagram and TikTok.