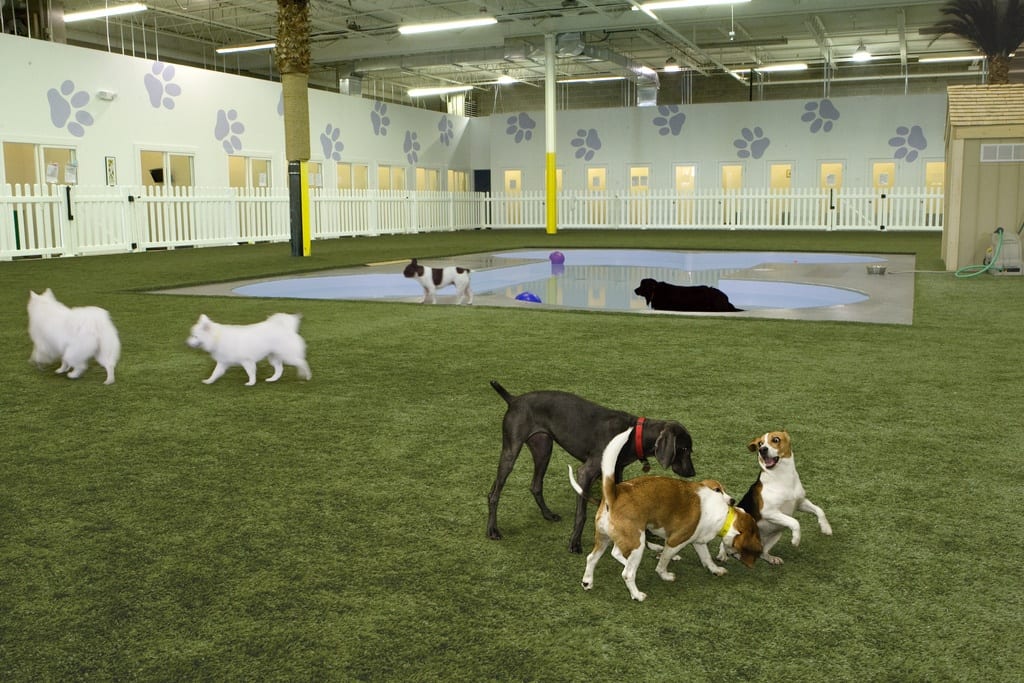 By Mary Beth Breckenridge
Beacon Journal
It's artificial turf that can stand up to whatever dogs dish out, be it claws or waste. And that means no mud, no dead spots in the grass and very little bother for humans.
Synthetic dog turf is being installed at some kennels and homes where owners want the look and the paw-friendly feel of grass with less fuss and mess.
It was the choice of Stephen and Shandell Mooney, who wanted to create a grassy area where their two active Australian Shepherds could play and relieve themselves but didn't want the dogs tracking mud into their brand new house in Green. The Mooneys recently installed a brand of turf called K9Grass inside a fenced, 30-by-30-foot area.
The first time the dogs encountered the synthetic turf, "there was a little bit of trepidation," Stephen Mooney said. They needed a little reassurance that, unlike the carpet in the house, it was OK to go on this stuff.
But it didn't take long for the dogs to catch on.
"They're marking all over the place now," he said.
How it works
Dog turf is the same or much like the current generation of artificial grass used on athletic fields. In many cases, the turf is no different; it's just marketed for dog use. ForeverLawn's K9Grass, on the other hand, was developed specifically for dogs, with added features such as a faster-draining backing and antimicrobial protection.
The blades of artificial grass are usually made of materials such as polyethylene, polypropylene or nylon — or a combination of them — and are attached to a mat, much like carpet.
The mat is perforated to allow liquids such as urine and water to drain through, and the turf is installed over a base material such as crushed rock that allows the liquid to percolate into the soil. Drainage systems are sometimes installed beneath the turf to facilitate the flow of liquids away from the surface.
Solid waste can be picked up easily and the turf hosed down or sanitized when necessary. K9Grass has an antimicrobial additive called AlphaSan incorporated in the grass blades to inhibit germ growth and odors.
The turf is anchored along the edges, and an infill material such as sand or tiny pieces of rubber is sometimes spread over the surface and allowed to settle among the blades to keep the blades upright and hold the turf in place. K9Grass doesn't use an infill but instead incorporates an artificial thatch made of curled blades, which makes the turf easier to clean, marketing director Donna Kent said.
Artificial turf has become popular with dog day-care facilities and veterinary centers, said Jeff Hart of ProGreen International, an artificial turf maker in Denver.
"It feels more homey than just concrete or gravel," and it's easier on paws, he said.
The dogs at Fairlawn Pet Resort in Copley Township seem to appreciate it, staff member Danielle Kinney said. K9Grass covers the two main areas that are designated for elimination and are sometimes used for small groups of dogs to play.
Kinney said she's never seen a dog hesitate to use the turf.
"You don't have to really do anything. They come out and they know this is the go spot," she said.
And since it's fake, dog turf stays green. It's not subject to burning from the nitrogen in urine, like real grass, and it won't turn brown in times of cold or drought.
"Basically, you've got green all year-round with no maintenance," said Erik Kline, who owns Klein's Lawn and Landscaping in Hartville and travels around the country installing K9Grass for New Mexico-based ForeverLawn.
SAFETY CONCERNS
Is artificial turf safe for dogs?
The discovery of high levels of lead in the pigment used in some synthetic sports turf has led to an investigation by the Consumer Product Safety Commission into whether the lead could rub off and cause health problems.
The two fields in New Jersey that prompted the investigation both had nylon-based turf made by Astro Turf. New Jersey officials did not find lead in polyethylene turf.
Rick Doyle, president of the Synthetic Turf Council, said the lead poses no health risk because it's fixed in place in the nylon and does not leach out, the Associated Press reported. He also said manufacturers have begun offering lead-free nylon surfaces.