We're putting the spotlight on one of our dear clients, Heidi's Village, an animal rescue and shelter in Phoenix, Arizona. We identify so much with the mission and vision of Heidi's Village because at our core, we're all just humans trying to help dogs live happier, healthier, safer lives. Our methods just look a bit different! But when you combine them together, you get superior canine care.
Here's their mission statement:
"Heidi's Village exists to foster a community where animals are treated with respect, dignity and compassion."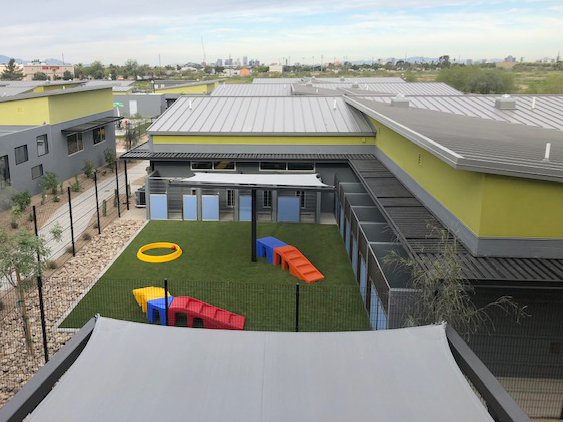 And their vision statement:
"We envision a world where all cats and dogs live in forever homes whose environment is healthy, safe and secure."
There's no better partnership than one that involves shared values. An environment for animals that's healthy, safe, and secure? That's exactly what we strive to provide with K9Grass® synthetic turf.
Compassionate care for animals is at the core of Heidi's Village.
Heidi's Village aims to help bridge the gap between available animal welfare resources and open needs in the community. They provide medical and behavioral intervention for both the public and 501(c)3 animal welfare groups at an affordable rate.
A 24-hour neonatal kitten nursery provides critical life care for kittens most at need. They also offer temporary boarding for nonprofit breed rescue organizations, subsidized medical intervention for animals whose guardians cannot afford to provide that care, and rehabilitation/intervention for animals with behavioral issues acting as a barrier to finding a forever home.
This new facility is amazing just by itself with all the different areas they have set up for the animals. Pair it with their top-of-the-line care and compassion, and you have an unstoppable shelter that will no doubt accomplish great things for the homeless, sick, or struggling dog and cat population in Phoenix and beyond.
Providing shelter to animals when they need it most.
The opening of Heidi's Village in early 2020 couldn't have come at a better time. The COVID-19 pandemic has meant more time at home for so many people, which means it's the perfect time to adopt a pet.
However, the spike in adoption has actually caused problems for shelters in the Phoenix area. A lot of people have been adopting, but most are choosing the younger, smaller dogs over the larger, older ones. One Phoenix shelter in particular has been featured in the news for being at-capacity and, at times, overcrowded with so many large breed dogs.
Heidi's Village aims to help in those situations by temporarily offering shelter to dogs that have no room elsewhere, giving them some security and comfort for however long they can. If only there was a Heidi's Village in every state to help alleviate the all-too-common problem of overcrowding in shelters.
How does K9Grass synthetic turf fit in?
This impressive new facility features a variety of different dedicated areas for the animals. However, the staff are so busy caring for them that they wouldn't have enough time to tend to a bunch of natural grass areas that dogs are constantly tearing up. They knew synthetic grass would be the way to go to cover a lot of ground and save staff from endless maintenance. K9Grass synthetic turf was specifically chosen because of its dog-specific design and extensive benefits to commercial dog facilities.
In fact, the characteristics of K9Grass align almost exactly with what kind of environment Heidi's Village aims to provide:
Comfortable – K9Grass synthetic turf has the look and feel of soft, healthy natural grass—something that dogs are very familiar with. Hard surface alternatives for dog facilities are often offputting to dogs and harsh on their joints.
Safe – The lack of rubber infill and a strong, knitted backing make it nearly impossible for the dogs to dig holes and pick up loose particles and turf blades.
Clean – AlphaSan® antimicrobial protection helps ward off bacteria and foster a cleaner, better-smelling environment.
Premium – Heidi's Village believes that all animals deserve the absolute best. So do we! K9Grass synthetic turf is made with the highest quality materials we could find, and we pair it with industry-leading installation methods for superior performance.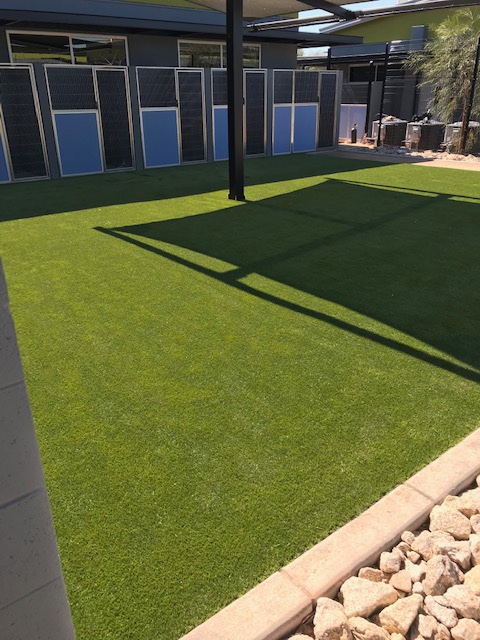 The ForeverLawn Northwest Phoenix team installed our turf in a fenced-in play area and around a splash pad for the dogs. K9Grass synthetic turf is an industry-leader for it's edge-to-edge drainage capabilities, making it the ideal surfacing solution for a space involving dogs and water.