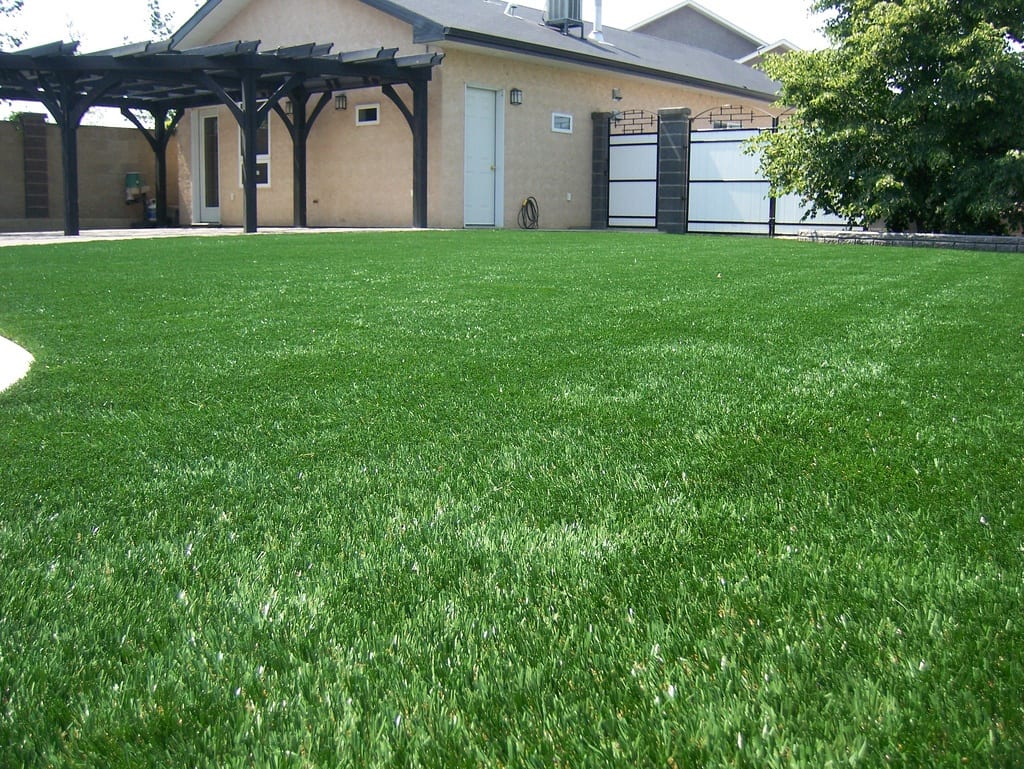 "He didn't know it wasn't real until he bent down and touched it."
By Cheryl Hall
Ritchie Alexander never dreamed he'd be a salesman. Or at least, we don't think so.
Ritchie is a 2-year-old Bichon Frisé who lives in the lap of luxury with owners Debby Mullen and Tim Alexander. They sell fake grass, and their back yard is their showroom. Potential customers always want to know if Ritchie does his business there. Sometimes he obliges with a demonstration.
"The dog poops on it just like a normal yard," says Mr. Alexander, president of ForeverLawn Dallas LLC. "And just like a normal yard, you should be picking up that poop. With this particular grass, we have antimicrobial sand as in-fill. That eliminates odor and microorganisms."
This carpet grass is made by ForeverLawn Inc., a 6-year-old company in Albuquerque, NM. The north Dallas couple owns the exclusive rights for Dallas, Rockwall and Kaufman counties.
ForeverLawn is a high-end offering in the rapidly growing fake-grass industry. It's taking root at some prominent addresses in town but still a novelty to most of us. When people think fake grass, they think Astroturf – coarse, scratchy and ugly. "I tell people it's like the high-definition TVs we watch today vs. the sets we watched 20 years ago," Mr. Alexander says. "Technology has come a long way." After the ground is excavated and graded, the artificial turf is laid over three inches of compacted granite that acts as a foundation and facilitates drainage.
The turf costs $8 to $12 a square foot installed. A top-of-the-line, 1,700-square-foot patch of back yard would set you back $20,040. The product has an 8-year warranty, but the manufacturer says it should last 15 years. Mr. Alexander and Ms. Mullen think it will really catch on if Texas follows the lead of New Mexico, California and Arizona, and gives incentives for reduced water usage.The fake grass saves on sprinkling and landscaping.
Green in other ways
"Five percent of emissions put off into the air comes from landscaping equipment," Mr. Alexander says. "Five percent may not sound like a lot, but it's huge." Mr. Alexander used to be in the auto glass business in Lubbock before he moved to Dallas three years ago to be with Ms. Mullen. They were looking for a new business venture when they ran across synthetic grass in Las Vegas.
"I was thinking cheap plastic, but then they sent us some samples," Ms. Mullen says. The couple took off their shoes, dug in their toes and found unexpected softness. Mr. Alexander poured bleach, gasoline and concrete cleaner on the samples and left them on the sports court to bake all summer. They weren't damaged. ForeverLawn Dallas' first installation was for Edward Ross, a greyhound rescuer who lives in the Park Cities with three of his rescuees.
"When I went to his home, he literally had holes that were 3-foot-deep and 4-foot-wide," Mr. Alexander says. "His yard had been resodded four years in a row, to no avail." True, says Mr. Ross, a CPA. "When it rained, it got all muddy, and the dogs tracked the mess in. At one point, I was stopping each one to wipe off their feet. Well, forget that. "It's one of the best investments I've ever made."
It's growing
Last year, ForeverLawn Dallas did 47 projects, most residential, and brought in just under $400,000 in revenue. "We reached that number the first three months of this year and expect to go into the seven digits," Mr. Alexander says. That should mean turning the company's first profit.
Judy Pesek, managing partner of Gensler Dallas, brought her design team to the Alexander's house to see the stuff up close. "My initial reaction to the idea of artificial grass was, 'Oh great, Astroturf!' " Ms. Pesek says. "But everyone was really amazed. You had to get down on your hands and knees to tell that it wasn't real." ForeverLawn has a K9Grass that has antimicrobial substances in the blades to prevent fleas, ticks and mosquitoes from homesteading. It's also made with a knitted backing and doesn't use in-fill so odors don't build up. Nanci and Len Mackenzie decided to test K9Grass in a dog run for their two 30-pound "SPCA specials" before landscaping their whole yard. So far, the former chief executive of Northern Telecom Inc.'s systems division thinks it was $6,600 well spent. "You have to pick up the larger remnants, but then you turn on the hose or sprinklers, and it washes away the other stuff," Mr. Mackenzie says. "I've had the dogs over here daily for nearly three months, and it does everything Tim said it was going to do. There is absolutely zero odor."
The day after it was installed, a workman was puzzled to find well-established grass where there hadn't been any the day before. "He stood on it, walked back and forth," Mr. Mackenzie says. "He didn't know it wasn't real until he bent down and touched it.